The possibilities for apps relating to whisky seem quite limited, but that hasn't stopped a number of app developers giving it a go. Most whisky apps are databases, with some clever folk adding a social element to reviewing and sharing their experiences. Some apps provide some educational material for the Scotch novice. Give these apps a go and see if they improve your whisky experience.
Note that you may need to be of a certain age to download these apps.
1. Whisky Companion
This is an exceedingly well reviewed app, owing to its stability and ease of use. Its not cheap at $4.99 but well worth it. It contains information on over 2600 whiskies from all over the world. It is a little short on bourbons but continues to grow every day.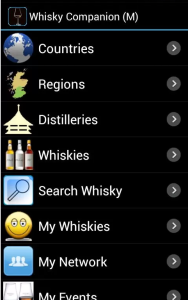 2. iMalt Scotch Whisky Companion
This is a database app with information on Scottish malts and distilleries. The great thing about this is the inclusion of Cloud servers to store reviews and notes of people who use the app. Whisky reviews can then be shared with other people who use the app.
As previously mentioned, this app only pertains to Scottish whiskies, so if you enjoy whiskies from elsewhere its best to use another app.
For the extra social functionality you pay a fairly hefty price of $10.49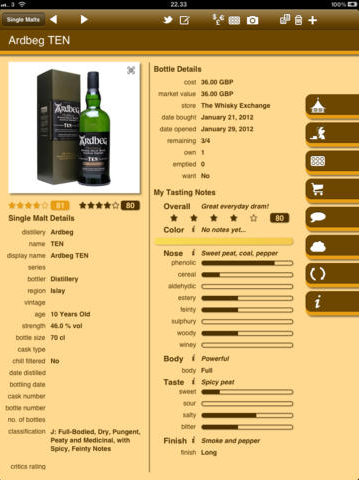 3. Whisky App
This one is similar to the iMalt app but also on Android. It's in beta and free. It seems to be quite stable, though. Functionally it works much like the iMalt app. The author intends to include ordering whisky as part of the app at a later date, so hopefully that doesn't become too intrusive. It has a decent sized database, too. On the downside, its interface is aesthetically pretty awful.
4. Scotch Whisky App
What is with these awful app titles? This has one useful feature – the inclusion of a flavor map. For those who haven't seen one before, a flavor map is essentially a grid with different distilleries or whiskies placed on it to indicate their flavor profile. Quite a useful thing if you happen to like a certain style of whisky and see a list of unfamiliar whiskies at a bar. Other than this neat feature, other apps do what it does but better.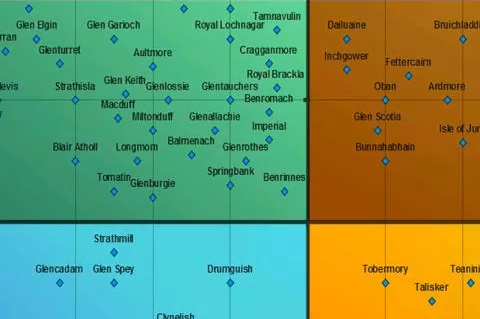 5. Whisky Journal – Flavordex
This app is intended for the user to record his or her experiences in tasting. One of the awesome features it has is the 'flavor radar', which allows the user to rate the amount present of 15 different flavors. While I'm not sure I agree with the 15 flavors presented, it does represent an interesting and more objective way to describe whisky.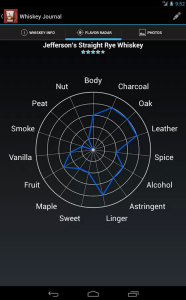 6. iDistillery
Ever wanted to know more about the distilleries themselves? This app has a ton of information at your fingertips. It is probably most useful for people travelling around Scotland or wanting to do a number of distillery tours, but it may hold interest to those interested in whisky history.