There's no surprises when you drink a Bruichladdich Octomore. They are the product of mad scientist level experiments to create the most heavily peated whiskies possible. Its peat measures 169ppm.
Octomore releases are aged far less than most single malts and given numbers to signify their editions, not unlike computer software. Young, peated whisky is actually quite common, as the peat tends to mellow out at older ages, with distillers sometimes adding sherry finishes to create a more creamy sort of dram. Conversely, other peat monsters such as the Laphroaig 10 cask strength are pure, unadulterated peat. The 5.1 is aged 5 years and bottled at cask strength, which should make even the most hardened drinkers nervous.
The bottle of the 5.1 is worth a mention. The marketing of the 5.1 is obviously intended to edgy, modern and rule-breaking and the bottle matches this concept well. It is pure, opaque black with modern printed text. It looks more like an Absolut vodka bottle than a whisky bottle.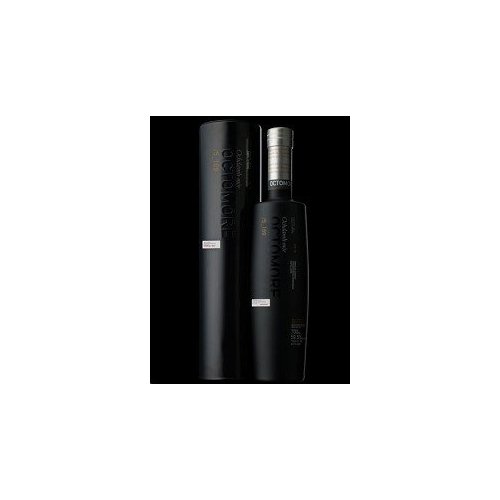 The nose is surprising for me. For such a young whisky I would have expected a great deal more harsh spice, but they have managed to create a sweet, almost fruity peated whisky. It is not a phenolic peat, though some of that comes through thanks to the sheer concentration of the stuff. The sweetness is something of a blackcurrant, along with a lighter, sweet moscato and pineapple. The peat is warm and surprisingly soft, like sitting near a bonfire. Malt aromas are present, but I did not sense much of the oak listed in the distiller's tasting notes.
On the palate the peat makes its move. The rich, earthy peat is the layer behind which all of the flavors hinted at in the nose are hiding. There's brine, wood smoke and salted meat. Behind that, there is rich dark chocolate, bacon, white pepper spice, a little of the moscato from before, spearmint and earthy tones. It is a hot whisky in keeping with its young age.
The finish is a brief punch of sweet followed by a lot of brine, smoke and tar. The sweetness is short and the smoke very long.
Diluting this whisky did not seem to improve it very much, despite its cask strength and huge peat ppm. More earthy and oak notes were present and less peat.
This is a very likable whisky that is surprisingly delicate for its young age and huge peat. It reminds me of the Ardbeg 10 in its light peat flavors, but there seems to be more depth of the peat in the Octomore 5.1. In fact, I was almost a little disappointed by the marketing hype. With such interesting packaging and hilariously over-the-top descriptions of the taste from the distillers, I expected something more like the creation of a mad scientist. Instead, we have a balanced, well-crafted malt! Bruichladdich have reportedly set out to prove that you don't need to age something for greater than 10 years for it to be good, and they have certainly achieved that goal.
Octomore 5.1 Information
Type: 5 year old single malt Scotch whisky
Region: Islay
ABV: 59.5%
Price guide:  100 pounds. Note that Octomores are limited editions, so you could consider buying one as an investment or collector's item
Octomore 5.1 Score – 8.9/10