The Highland Park 25 year old is certainly an aged whisky, but not the oldest of their whiskies. That crown goes to their limited run of 50 year old. The 25 year old sits around the middle of their range, and while not cheap, also presents the best value for money of all of their whiskies. And that's because it's just so damn good.
The Highland Park 25 year old uses peat from the Orkney Isles, their home base. Most other peated whiskies use Islay peat, and there's a definite difference. For a peaty whisky there isn't a great deal of it on the nose, but rather a sense of grass, wood and spice. Not really multi-dimensional, but powerful and enjoyable.
Caramel & maple syrup sweetness is the initial flavor present when tasting. This is wonderfully counterbalanced by the Orkney peat, which is very aromatic. The same smokey and sweet themes continue over the reasonably long finish, which is delightful. It's rare to have such a sweet finish on a whisky of this age. A drop of water really opens it up, too.
Compared to the 18 year old, the 25 year old has a little more peat and earthiness to it. In a couple of words, 'more oomph'. This makes it a more pleasant experience to my tastes, but those who enjoy a little more sweetness might end up enjoying the 18 year old Highland Park a bit more. Each to their own, but if you get the chance to sip these side by side I would highly recommend it.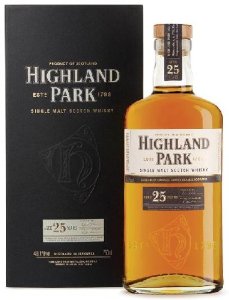 Highland Park 25 Year Old Information
Type: 25 year old single malt Scotch whisky

Region: Island

ABV: 48%

Price guide: 150 British Pounds, 300 USD.

Highland Park 
Highland Park 25 Year Old Score: 10/10 – highly recommended