I often wonder if gaelic names for whiskies is the best idea given that someone trying to order a whisky at a bar would be too ashamed to have a crack at the pronunciation. The Ardbeg Uigeadail summarizes my argument perfectly. It's named after the water source that Ardbeg use for their whisky, and there's nothing more spiritual to whisky makers than the water they use. One would think that we're in for a treat with this whisky then.
The nose is on the subtler side, but quite rich and enticing. Brown sugar, tar, smoke and a touch of fruit. There's also some subtler notes, perhaps cereal.
The taste is very full, with flavors of fruit and treacle. Initially it tastes like Christmas cake, before resolving in to a combination of sweet and spice. Water opens up the smokey flavors, as well as tar and oil, and also adds more of a currant flavor.
The finish is long as anything, with raisin, espresso and smoke present. Delightful.
When compared to the Ardbeg 10, the Uigeadail is bit sweeter owing to the sherry finish. It's a bit creamier too, which is probably to do with the higher ABV. It's also a little more complex than the Ardbeg 10, in my opinion. While the 10 is all upfront bluster, the Uigeadail still packs a punch but is quiet power than overbearing aggression. Mind you, there are of course people that still prefer the 10, but the Uigeadail does it for me.
The Ardbeg Uigeadail represents excellent value for money. It's in the low to middle price point for single malts, but punches well above its weight. When I buy a single malt I want complexity, smoothness and punch all in one, and the Uigeadail delivers all of these in spades.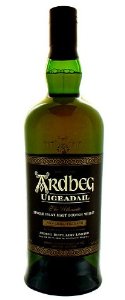 Ardbeg Uigeadail Whisky Information
Type: Single malt Scotch whisky

Region: Islay

ABV: 54%

Price guide: $80
Ardbeg Uigeadail Score – 9.5/10