A whiskey decanter set is an elegant edition to any home. Drinking whiskey is frequently about sharing an experience between friends, and there's no better way to do it than with a decanter set on a tray on the table, with an ice bucket near by. Maximal enjoyment with minimal movement. A whiskey decanter set can also be a feature part of a home bar. The problem with whiskey decanter sets is that they are frequently expensive when bought in stores, which is unfair considering that they're frequently mass-produced. Online ordering provides much better deals.
A note on lead crystal
There are some health concerns regarding the use of lead in some crystal decanters and having the lead infuse in to the whiskey. To be most safe, it's best to pour the whiskey in to the decanter prior to serving if the decanter contains lead. If not, feel free to leave the whiskey in the decanter for as long as you want.
This 24 percent lead crystal set looks wonderful. The Dublin-style detail and patterning on the glassware is intricate and stands out well from the glass. This whiskey decanter set features 4 double old fashioned glasses, a decanter and stopper. This decanter set should be much more expensive than its listed price and will surely impress guests with its elegant and beautiful design. It can also be bought with a matching ice-bucket.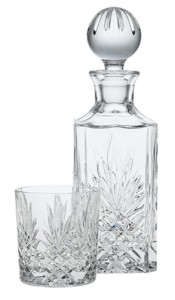 This decanter set is undoubtedly made more cheaply than the Godinger set, but it comes at a more affordable price. This whiskey decanter set is made of plain glass, not crystal, which explains its cheaper price. The detail on the glassware is very intricate. This set will serve most beginner or casual whiskey drinkers perfectly, though the more hardcore whiskey enthusiasts might want to opt for a crystal variety.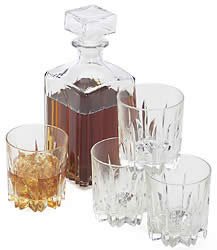 This design is simple and elegant, without the detailed patterns on the glass that other sets have. One big boon of this decanter set is that it's lead free crystal, so whiskey can be stored in it for long periods without concern for lead leakage. It ships with the decanter itself and four double old-fashioned glasses.