The Talisker 10 year old is the youngest single malt offering from Talisker. It is characterized by its predominant smoky flavor without being particularly strong on earthy peat flavors. It represents excellent value for money if you want a lot of fire and smoke for a decent price.
The Talisker 10 is similar to many offerings from Islay, but is more of a dry smoke rather than that classic "bonfire on the beach" analogy typically provided for Islay whiskies. Instead, it is more reminiscent of a hot summer fire – dry, moderate smoke rather than dense, earthy almost moist smoke. This smoke is the dominating force on the nose, along with a faint citrus fruit smell and a pepper spice.
To taste there is more smoke, along with green fruit flavors, sweet chilli, pepper, oak, barley and light medicinal flavors like iodine. The sweeter fruit flavors present themselves first before transitioning through spice towards a dry and smokey taste. The palate is a little thin despite the high bottled strength, perhaps owing to the fact that it is chill-filtered. Adding water opened up the background fruit a touch and reduced the spice. It's also worth noting that this whisky benefits from being left to sit for 10 minutes to open up.
The finish is more briney than the rest, along with…you guessed it…lots of smoke. Medium to long finish that will keep you nice and warm.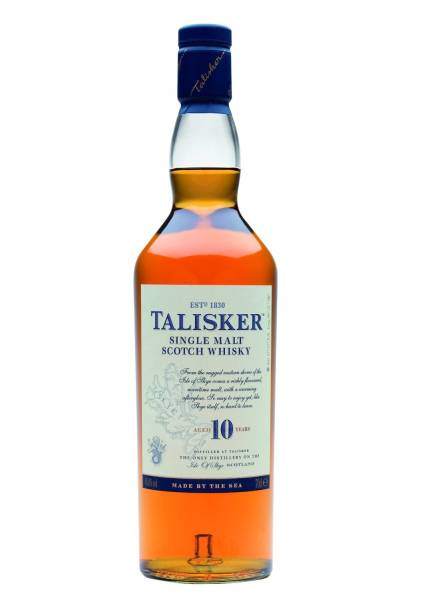 The Talisker 10 is a classic whisky, unique and instantly recognizable in its dry smoky flavor but similar in other ways to Islay whiskies. Popular in bars and restaurants, this is a good option when eating out. Personally, I prefer the more prominent, dense, earthy peat if I'm going to have a smoky whisky, but many love this and I can certainly appreciate its qualities.
Talisker 10 Year Old Information
Type: 10 year old single malt Scotch whisky
Region: Island (Skye)
ABV: 45.8%
Price guide: 35 pounds / 60 USD
Talisker 10 Year Old Score – 8.2/10