The Oban Distiller's Edition is a variation of the wonderful Oban 14 year old. It is the same whisky finished in Montila Fino sherry casks for an extra year or so.
One delightful addition that the sherry has given the already excellent Oban 14 year old is an additional chocolate flavor. The Oban 14 is already a sweet whisky, but not overdone thanks to the counterpoint of peat and slight saltiness. The other flavors of fruit and a tobacco smoke return as well, but are a little more round thanks to the additional maturation.
Overall it's an improvement on the already excellent Oban 14, but not enough to justify the extra cost in my mind. I'll stick with the 'basic' version which is more than enough to satisfy me.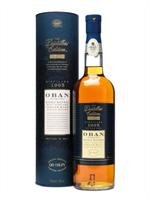 Oban Distiller's Edition Information
Type: 14 year old single malt aged for an extra 6 to 18 months in Montila Fino casks.

Region: Highland

ABV: 43%

Price guide: 65 British Pounds, 100 US dollars.
Oban Distiller's Edition Score – 9.5/10