Although small, the Oban distillery is extremely productive, and the Oban 14 Year Old is the distillery's signature malt. Rich and fruity, yet with moderate peat, the Oban 14 can be a polarizing whisky.
The nose is primarily citrus, malt and honey and a medium dash of smoke. Very enjoyable.
Peat, malt and citrus all remain when tasting, but the honey notes give way to more of a fruity sweetness. The peat involved is nowhere near a Laphroaig, but is enough to be interesting and is exceedingly well balanced with the other flavors. It stays true to its seaside location with the peat, which also does a good job of reigning in the fruity sweetness.
The finish is short and perhaps the most disappointing aspect of this whisky. Its quite clean and smooth, which some may enjoy given the richness of the flavors involved, but I found myself wanting a bit more from it.
The price is a little high for the age of the whisky due to the limited production capacity of the distillery. However, it punches a bit above its weight, and this is one of those whiskies that will at least interest you, even if you don't like it. For many others, myself included, it's a favorite due to its complexity and balance of sweet and peat.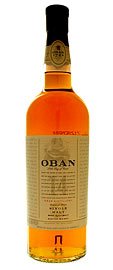 Oban 14 Year Old Information
Type: 14 year old single malt Scotch whisky

Region: Highland

ABV: 43%

Price guide: 80 USD, 35 British Pounds.
Oban 14 Year Old Score – 9/10