An appropriate follow up to the recent review of the Laphroaig 10 year old is the same whisky at cask strength. I'm pleased that more distilleries are releasing their whisky undiluted, and I could think of  few better candidates than the Laphroaig 10 year old. Those who have tasted the standard Laphroaig 10 bottled at 40% will no doubt view the Laphroaig 10 Cask Strength as something both scary and exciting, similar to the most feared ride at the theme park.
You would have to be quite brave to not water this one down. I risked a sip of the full strength stuff and found it to be similar to what I imagine swallowing a campfire whole would be like. A few drops of water settled it down.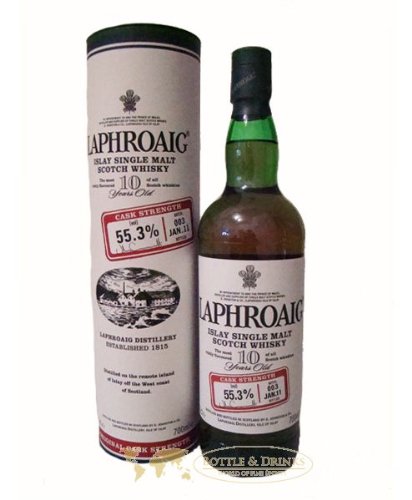 The nose is full of peat, with strong smoke and earthy flavors like burning scrub on a cold day. Surprisingly sweet with full bodied oiliness, which combined with the medicinal flavor typical of Laphroaig gives the impression of cough syrup. Liquorice and brine complete this corker of a nose.
To taste there is a sweet and sour flavor, earthy spice including clove and spiced pear, thick seawater saltiness and tons of thick, wet campfire smoke. The peat is a revelation and crackles and fizzes in your mouth like a novelty candy.
The finish is extremely long with a fire that is fresh like a powerful breath mint. Salt, iodine and sweetness all come together for an appropriately powerful finish.
If you're ever concerned that you may be becoming an alcoholic, the Laphroaig Cask Strength may be the whisky that stops you from getting there. It is just too much to have in large doses. It may also serve well as a drink to be drunk if you're rather proud of your single malt whisky drinking reputation. People can smell it in the other room and will surely call attention to you and your glass, wondering how on earth anyone can enjoy something that smells like that. Me, I adore the stuff.
Laphroaig 10 Cask Strength Information
Type: 10 year old cask strength single malt Scotch whisky
Region: Islay
ABV: 55.3%
Price guide: 100 pounds/160 USD
Laphroaig 10 Year Old Cask Strengh Score – 9.1/10