The Lagavulin 16 year old is one of those whiskies that everyone seems to like. Even people who dislike strong peat can at least appreciate the Lagavulin 16 for what it is – a truly excellent whisky.
The attraction of the Lagavulin 16 year old is the counterpoint between the strong peat and an overall dry taste. Where some other peated whiskies can be too much to deal with if there's a lot of other stuff going on, the dry smoke flavors are truly interesting. It also has some hallmark Islay flavors, such as a taste of brine on initial taste, followed by some grilled meat flavors later on. Perhaps what makes this whisky so popular is that it manages to remain smooth, despite being big and powerful as well. It's easy to drink and not so huge on the salt that it'll put people off.
On the nose is a reasonable amount of sherry sweetness, which is pleasant and not particularly reflective of the taste to come. Also present are your expected big whiff of smoke, spice & iodine. Certainly a powerful and complex smell.
The body of the whisky is another highlight, being somewhere between milk and oil. When combined with the salt and peat flavors it is delightful to roll over the tongue.
The Lagavulin 16 year old is quite simply the taste of the Islay region, and highly recommended. It is growing in popularity, too, and American whisky fans may find that the supply is not enough to meet the demand in their country. If you see one around and you are interested in trying it, I highly recommend giving it a go. I'm not sure I'd bring the Lagavulin 16 out at Christmas for my mother, but for anyone who enjoys whisky it'll be a real treat.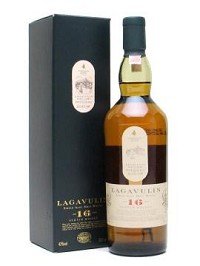 Lagavulin 16 Year Old Whisky Information
Type: 16 year old single malt Scotch whisky

Region: Islay

ABV: 43%

Price guide: 46 British Pounds, 80 USD
Lagavulin 16 Year Old Score – 9.5/10