The Highland Park 12 year old is the most accessible whisky from the Scottish Island distillery. It is a well-regarded, complex whisky that may surprise people coming from a simpler 12 year old such as the Glenfiddich. Although from the Island region of whisky making, it is somewhere in between Highland and Island in terms of character
Highland Park certainly do not shy away from challenging the drinker with their whiskies. Tasting notes for this whisky are usually pretty extensive, as there is just so much going on. Perhaps as a result of this, people frequently have a wide range of experiences with it.
The aromas of this whisky are primarily honey and smoke. It's not a particularly complex nose, but some orange and earthiness can also be appreciated. The body is around medium and quite smooth.
The taste is truly complex and hard to describe. In short, think of a balanced contrast of sweetness and spiciness with a hefty dose of smoke. This is one of the few whiskies that I enjoy more with a dash of water. I think it opens up the fruitiness a little more while dampening the spice and peat.
The finish is the only point at which this whisky slips up – it's medium to long and there's the tiniest bitter note.
The Highland Park 12 Year Old comes highly recommended for a 12 year old whisky, especially those wanting to experience one with a bit of peat behind it. It's not too much more than a Glenfiddich or Glenlivet 12, but much more interesting. This Scotch is like the loud person at the dinner party – not everyone likes him, but at the very least he's interesting. For me, it's my favorite 12 year old single malt.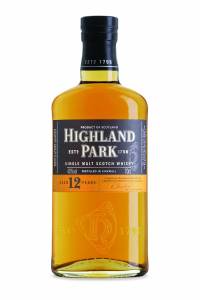 Highland Park 12 Year Old Information
Type: 12 year old single malt Scotch Whisky

Region: Island

ABV: 40%

Price guide: 30 British Pounds / 60 USD
Highland Park 12 Year Old Score – 9/10