The Glenmorangie 18 year old whisky is a particularly well thought of single malt. It is characterized by a light yet complex flavor and is everything you would hope for from an 18 year old whisky. It is also a perfect example of the Glenmorangie style whisky, so starting here on the Glenmorangie tasting journey is not a bad idea at all.
The Glenmorangie distillery has exceedingly tall stills at 17 odd feet, a fact that their website is all to eager to inform you of. Generally large stills allow a lightness of flavor, and the 18 year old is no exception. It is aged for 15 years in bourbon casks and the final three years of maturation is done in Oloroso sherry casks.
The aroma of the Glenmorangie 18 year old is of oak, toffee, walnuts, citrus, raisins and mild peppermint. It is a fairly subtle nose, but nonetheless quite complex and pleasant.
The taste is similar to the nose in that it is quite light yet complex. It is the sort of palate that you will need to sit and think about some time before recognizing all of the flavors. Fruit, malt, honey and walnuts are all present in very well balanced amounts, and a light smokiness rounds things off nicely. The nuttiness combined with the smokiness is truly delightful and is the last flavor to present itself.
The overall impression of the Glenmorangie 18 is that of an easy to drink whisky that is subtly complex and worth enjoying thoughtfully. It may not truly excite some folk who like their flavors more up front, but I thoroughly enjoyed this whisky.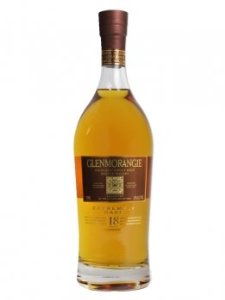 Glenmorangie 18 Year Old Information
Type: 18 year old single malt Scotch whisky

Region: Highland

ABV: 43%

Price guide: 85 British pounds, 110 USD. I'm not sure why it is so much cheaper in USD.
Glenmorangie 18 Year Old Score – 9/10