The Glenlivet 12 year old, along with the Glenfiddich 12 year old and the Chivas Regal 12 year old blend, is what most people would name if they had to name the first 12 year old whisky that popped in to their head. Each has huge market share, and both Glenlivet and Glenfiddich varieties are the 'baby's first single malt' – not remarkable, but very drinkable and enjoyable by the masses.
The nose is primarily vanilla and citrus, with a little hint of cinnamon as well, but is pretty one-dimensional. Repeat whiffs won't add much to the aroma.
To taste, the flavors are rather oaky and buttery with some more subtle floral flavors as well. Drinking the Glenlivet 12 with a dash of water didn't do it for me – I think it's far better neat or else the flavors simply get lost. The overall impression is a very creamy and smooth taste that will struggle to offend anyone. It's nowhere near as fruity as the Glenfiddich 12 year old, but that doesn't make it any less interesting.
The finish is very long indeed, and quite spicy and warm. It's one of the more enjoyable aspects of the whisky, and taking a good long drag of air in adds much to the experience.
The Glenlivet 12 year old is an exceedingly smooth single malt, which is perfect for an entry level Scotch whisky. It's also cheap, thanks to years spent in supermarkets being discounted. We have Glenfiddich and Glenlivet to thank for introducing many of us to single malts, and the Glenlivet is probably looked back on a little harshly by experienced whisky drinkers. It's an enjoyable 12 year old that won't make you say 'wow' but will nonetheless be smooth and enjoyable from full glass to empty.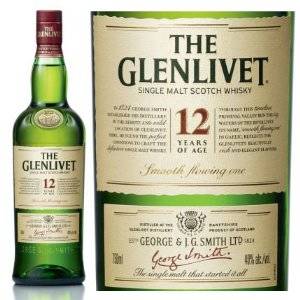 Glenlivet 12 Year Old Information
Type: 12 year old single malt Scotch whisky

Region: Speyside

ABV: 40%

Price: about 25 British pounds or 50 USD. Very cheap.
Glenlivet 12 year old score – 7/10