The Glenfiddich 12 year old is certainly a divisive whisky. Sitting there in its green bottle, all it wants is to be drunk and for everyone to stop arguing about it.
What people are arguing about is whether or not it's much good. I've made mention numerous times on this site that Glenfiddich as a brand, and especially the 12 year old, attract some criticism from whisky snobs. Glenfiddich is undoubtedly well marketed and very famous. People are keen to criticize anything that's popular – the real question is whether or not it's justified.
In the case of the Glenfiddich 12, the criticism may be at least partly justified. Compared to other 12 year old single malts, I found myself thinking that it just doesn't pack enough flavor. The body is moderate and a little on the oily side, and the light flavors of fruit and vanilla are appeasing but not overwhelming. If I had to categorize this whisky I would describe it as a summer scotch – can be drunk with ice on a warm day without feeling like you're going to pass out from the heat emanating from outside and inside your body.
The Glenfiddich 12 was incidentally one of the whiskies that got me into whisky, along with Chivas Regal – a story I'm sure many people who enjoy whisky share. When I first started out drinking whisky, I wanted a drink that I could drink quite comfortably, and both of the aforementioned whiskies satisfied that criteria. As I've moved on with my whisky drinking, though, I find myself looking for a little bit more character and punch. I still have fond memories of the Glenfiddich 12 year old, though, much the way one fondly remembers the first band that got them into a certain style of music.
I'm fully aware that there are many people passionate about the Glenfiddich 12 year old, and those that support it like they would support their football team. For me, it's like meeting a person who's nice but doesn't share your interests – sure they're a decent person and all, but we probably won't hang out again.
For people that feel the same as me, please don't dismiss Glenfiddich at the 12 – charge on to the 15 and see what you think. Many people find that the improvement is huge.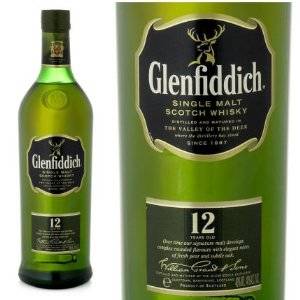 Glenfiddich 12 Year Old Information
Style: 12 year old single malt

Region: Speyside

ABV:  40%
Glenfiddich 12 Year Old Score: 6.5/10