The Glendronach 15 year old is when things start to get really exciting in the Glendronach range. In my Glendronach 12 review, I stated that whilst the 12 is a delicious sherried whisky with grainy notes, I would be interested to see what a bit more time in the barrel would yield. Bring on the 15 year old, then.
The nose contains predictable sherry notes, as well as some dried fruit flavors and cinnamon. There's smoke, too, but it's definitely not a major component. I find that a drop of water opens the nose up a bit and allows more appreciation of floral aromas.
To describe the taste of this whisky: Christmas cake. Not to be lazy in my descriptions (I think the 'Christmas cake' moniker is thrown out pretty readily when talking about sherried whiskies) but it just sums it up perfectly. The good thing about the taste is it doesn't stay static. The sweeter elements present themselves first, with plum, vanilla, cinnamon and strawberries giving way to spice, malt and oak. The mouth feel is of medium oiliness. Plenty of people say this is not a balanced whisky, and I'd have to agree, but that doesn't make it bad. It's just a sherry whisky that doesn't try to hide that fact.
To finish, there are plums, mild smoke, oak, a touch of nuttiness and spice.
This whisky is a step up from the 12 in terms of overall complexity. I continue to recommend this whisky, along with the 12, for lovers of sweeter whiskies. It would make a great introduction to liquors for someone coming from liqueurs or even red wines or dessert wines. It's also quite affordable, which never really hurt my love for a whisky.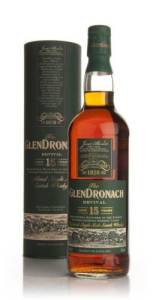 Glendronach 15 Information
Type: 15 year old single malt Scotch whisky

Region: Speyside

ABV: 46%

Price guide: 40 pounds, 75 US dollars
Glendronach 15 Score – 9/10