Cask strength whisky is becoming more popular, and what a wonderful thing that is. The philosophy behind cask strength whisky is that people can receive the real deal, undiluted with water from the distillery, and dilute it as they see fit.
Why drink cask strength whisky?
While it might seem ridiculous to want to drink something with an ABV of around 60%, the philosophy behind cask strength whisky comes down to flavor profile. If you are drinking something that has been watered down to 40% ABV (as many blends and base level single malts are), are you drinking the real thing or are you drink 2/3rds of the real thing?
Cask strength does not mean that you need to drink it at the full strength. Many folk will continue to water down their whisky, frequently to a concentration of around 48-50%. As an added bonus, you can water it down to a variety of concentrations. As whisky gets watered down, the nose and palate begin to alter slightly. New aromas and tastes arise, while others fade in to the distance. It makes grasping the full character of the whisky much easier. It's still possible to water down from 40% ABV, but some whiskies start to fade very quickly, resulting in all of the flavors being weakened.
Are you ready For cask strength whisky?
Drinking cask strength, for some, is the ideal way to drink whisky. For others it's just too much, and always will be. Luckily, there are cask strength versions of many favorite drams available, including the following (note: I've tried to only include regularly available versions of these whiskies and not special editions)
Glengoyne
Caol Ila
Laphroaig
Glendronach 12
Springbank 12
Arran 12
Finlaggan
Glenfarclas (105 is cask strength)
Ardbeg (Uigeadail is cask strength)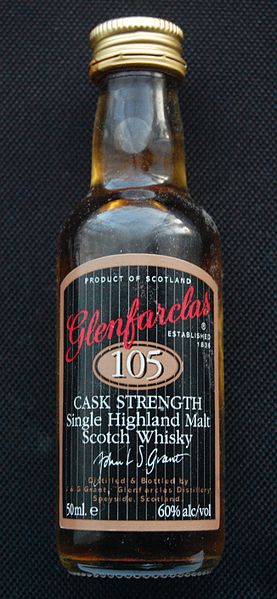 People who enjoy cask strength whisky seem to be the same people that like big, powerful flavors – whether that's peat, sherry or fruit – because cask strength gives you even more of those flavors.
Drinking cask strength usually comes at the same time as when your whisky snobbishness leads you to avoid chill-filtered whiskies and when blends are boring as hell. If you haven't reached this level yet, or simply don't understand what I'm on about, then proceed on your merry way. See you in 6-12 months.