The Caol Ila Moch is a young whisky from the reputable Islay distillery. It is a no age statement single malt that is commonly thought to be about 8 years old.
On the nose there is a light, barbecue smoke and a whiff of earthy peat. A punch of sweet citrus fruit initially combined with a vanilla and honey sweetness. There's something a bit thicker hidden away as well, like tobacco and liquorice, and a sharp lemon note. The nose matches the pale, clear yellow color of the whisky quite well, with its strong lemon notes and immediate punch. Adding a touch of water makes the otherwise faint earthy notes more prominent.
On the palate we have an initial huge punch of honey sweetness followed by tons of smoke. During the smokiness there is more pronounced earthy notes than in the nose, with malted barley, bark and fresh herbs, but there's never a big display of earthy peat flavors. The iodine notes that I was expecting drinking a Caol Ila come through here, with liquorice and caramel combining to impart a sweet medicinal flavor. It's a medium to full mouth feel and taste rather sweet and sour (more emphasis on sour), with the smoke covering it all like a blanket. It's quite a hot whisky with a sweet chilli and black pepper spice to it, in keeping with its young age.
The finish is long and smokey, with a faint hint of lemon and honey sweetness. Very dry and quite refreshing.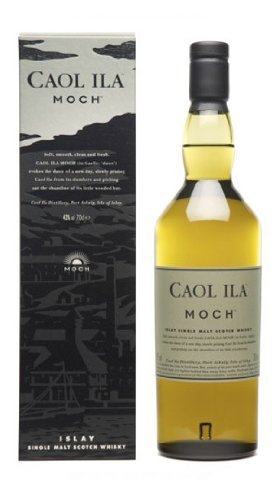 I think this whisky is fine at this strength of 43% as it seems ideal for the heat and slight sharpness behind it. Caol Ila have pulled off a rather fine whisky here, with the strong citrus flavors combining beautifully with the liquorice, iodine and smoke to create a punchy dram with a big oily body and satisfying finish. It's a simple yet challenging whisky, I think, and I'd be so bold as to not recommend it if you don't like lemons much. It captured my interest, which I value very highly in a whisky, and I found it refreshing. Lovers of Ardbeg will probably enjoy this whisky, as its lightness, fruitiness and moderate smoke will appeal.
Caol Ila Moch Information
Type: single malt Scotch whisky (no age statement)
Region: Islay
ABV: 43%
Price guide: 43 pounds / 70 USD
Caol Ila Moch Score: 7.9/10