In my recently posted Caol Ila 12 review I complained that the unification of the parts of the whisky lacked, resulting in a sense of incompleteness on tasting. Enter the Caol Ila 18. It retains the same character as the Caol Ila 12 – light, moderately peated – but with a rich mellowness that is exceedingly enjoyable.
On the nose is easily the best aspect of this whisky. It has a light peatiness, combined with floral and fruity notes. This is similar to the 12 year old, but the fruit here is a little warmer and richer, as if the fruit flavors ripened during the additional 6 years in the cask. It has a sweet herb smell combined with bonfire smoke and light brine.
To taste, it is sweeter than the 12. It may in fact be too sweet for many self-professed peat and Islay lovers. As the nose hinted, the fruit flavors have ripened and opened up, creating a more mellow and richer taste but at the expense of a sweetness that is slightly too much for my tastes. There is a little oak and grass to round out a palate that doesn't exactly jump out at you, but demands you continue to go back to unlock its full potential. I found this whisky much better after giving it around ten minutes to breathe, as this seemed to bring the background notes further forward and diminished the sweetness a little.
The finish is medium length and smoky, with a touch of both fruity sweetness and salt. The finish is rather matter-of-fact, which contrasts to the restrained palate and vivacious nose.
Don't drink this whisky for peat alone. You would be better advised to go for a younger offering – even Caol Ila's milder 12 year old presents more peat than what you get here. What this whisky offers is generally great balance, aside from the sweet notes that are struck a little loudly. If the palate was that little more open this would be a truly outstanding whisky. It will have to settle with being labelled as "very good" for now.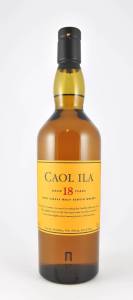 Caol Ila 18 Information
Type: 18 year old single malt Scotch whisky
Region: Islay
ABV: 43%
Price guide: 70 pounds
Caol Ila 18 Score: 8.9/10