Caol Ila whiskies are not as prominent as the big three Islay distilleries, but they're getting there, and with seemingly good reason. Compared to the punch of the Ardbegs, Lagavulins and Laphroaigs, Caol Ila whiskies are comparatively light and flora.
Saying the Caol Ila 12 year old is light does not detract from its overall quality as a peated whisky. In fact, there's quite a lot of peat presence. Compared to the Laphroaig 10, there is just as much peat, but less of the other strong flavors such as iodine, brine and ash.
On the nose there is a smooth puff of smoke and brine. The brine is similar to that of a fish cooked on a stove top. Nothing compared to the punch of the Laphroaig 10, which is more reminiscent of brine from a can of tuna. To complement these typical Islay flavors are fresh fruits including apples and pears. A touch of spearmint rounds out this complex and exciting nose.
To taste there is a general peaty warmth initially. I was reminded of the taste of a warm apple cider due to the warmth and fruitiness. Against all expectations, this whisky is sweet and fruity on the level of some Speyside offerings, but complemented by peat, brine and toast. The mouthfeel is definitely oily, bordering on creamy. It's an interesting palate that has many different elements at work.
The finish is smooth, slightly sweet smoke and seaweed salt.
I enjoyed this whisky, as it seems to be one for any weather and mood. The fruitiness will perk you up with a wink and a smile, but in case that's not enough, the peat is willing to slap you in the face and give you a stern talking to if you mope too much.
My chief complaint with the Caol Ila 12 is that the elements don't seem to come together to make one smooth whole. While it is certainly complex and interesting, the "yin and yang" where parts combine to create something greater isn't quite there. The other problem is the price – outside of the UK it is difficult to find it at a price worthy of its taste.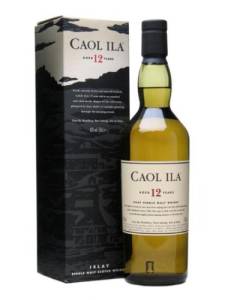 Caol Ila 12 Information
Type: 12 year old single malt Scotch whisky
Region: Islay
ABV: 43%
Price guide: 35 pounds/60 USD
Caol Ila 12 Score: 8.2/10