Like the Ardbeg Blasda, the Ardbeg Supernova is a cask strength whisky. It is otherwise unlike the Blasda in every way thinkable. The supernova is the perfect name for this whisky, as that's exactly what occurs in your mouth when you take a sip.
A complex nose of earth, moderate smoke, butterscotch, vanilla and pepper. The peat here is not as strong as you would expect, but prolonged nosing will reveal more. Worth spending a bit of time plumbing the depths of this whisky
To taste there is ripe fruit, cinnamon, clove, tobacco, leather, liquorice, chocolate and espresso. And, of course, the peat. The peat just keeps going and going in this whisky, and it'll challenge non-peat lovers for sure. The fruit is an interesting flavor among all the peat, and it seems to appear right as your eyeballs are about to pop out of your head from the spice and smoke.
The finish seems to go on for hours – my tongue didn't feel quite right for a good five minutes. In case it wasn't clear already: peat.
There are a few editions of the Ardbeg Supernova. I tried the 2010, which seems to be the pick of many people. Let me know your experiences if you tried one from another year. Ardbeg are apparently releasing this whisky 'occasionally', so there might not be one every year. This is one of those whiskies that makes me want to be rich, so I can drink it regularly. If you love peat, I highly recommend you try this at least once in your lifetime. A brilliant whisky.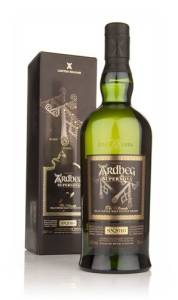 Ardbeg Supernova Information
Type: single malt Scotch whisky

Region: Islay

ABV: 58.9%

Price guide: 175 pounds, 250 US dollars
Ardbeg Supernova Score: 9.5/10