The Ardbeg Airigh Nam Beist (pronounced 'Arry Nam Bayst') is a difficult to find whisky. It has been replaced by the Corryvreckan and others in the middle range of the Ardbeg whiskies. Nonetheless, if you can find one, it's worth buying. It's yet another variation on the Ardbeg peat flavors, this time with a softer fruit, vanilla and citrus added on top of the usual mild fruit tones. Its altogether a softer whisky than some other Ardbegs, which makes it an interesting and enjoyable experience.
The nose is rather floral with that restrained smoke that is signature Ardbeg. There's also some cereal flavors, a touch of earth and a hint of vanilla. A long nosing is in order to pick everything up.
To taste there is a lot of salt, moderate peat as well as sugar, fruit and vanilla. There's not as much citrus as some other Ardbegs, but more soft mushy fruit. The peat doesn't overpower the flavors, which is a pleasant surprise. It's a pleasant taste to be sure but doesn't knock your socks off like the Corryvreckan. In terms of quality, I'd put it alongside the 10 on my list.
The finish is good: slow and medium with a mild burn.
The Airigh Nam Beist doesn't hit the same complex notes that a lot of their other whiskies do. The Corryvreckan is similar with a bit more peat and a bit more complexity. It's not too surprising that they're phasing this one out, but that doesn't make it a bad whisky by any means (nothing Ardbeg makes can possibly be classified as bad). I still recommend this one, but the high prices will probably drive a lot of people off.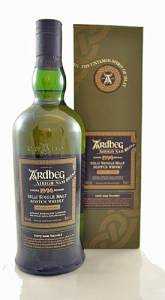 Ardbeg Airigh Nam Beist Information
Type: single malt Scotch whisky

Region: Islay

ABV: 46%

Price guide: Expect to pay around 150 pounds or 250 US dollars due to its rarity.
Ardbeg Airigh Nam Beist Score – 8.5/10